Visiting the Big Island, key sites and attractions
Visiting Hawaii has so many wonderful activities and attractions to lure travellers of every kind. Seeing Hawaii Island better known as the 'Big Island Island'.
Visitors will find every type of activity to see and explore around the island including adventure and outdoor recreation, mega-resort hotels to budget-friendly accommodations, eco-tourism, fine dining and local foods, tropical rainforests to enjoying a quiet and sandy beach.
There is a lot to see and explore on the Big Island of Hawaii, following are some highlights of activities and key attractions to do around the island.
Plan your trip?
Avoid hidden fees in the exchange rate while withdrawing from millions of ATMs abroad, paying in restaurants and shops, and buying your accommodation and flights using the Wise Card. You can hold up to 40+ currencies at once to spend in in over 150 countries, and convert them in real time with the free Wise app.
Need help planning your trip from start to finish? Check out these helpful links:
This post contains some affiliate links for your convenience. Click here to read my full disclosure policy.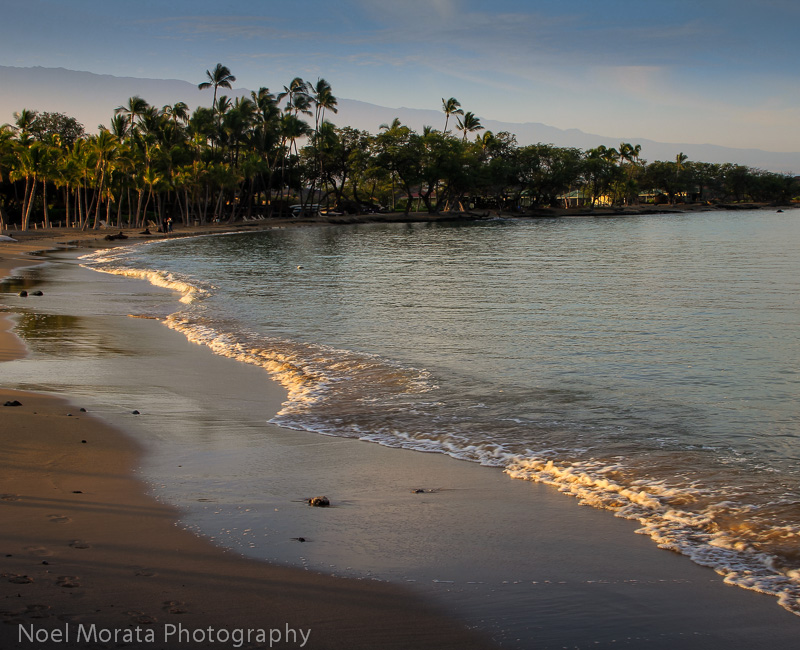 A bay, Waikoloa Hawaii
Sandy beaches
Kona and the sunny areas of the Kohala coastline are blessed with sunshine and beautiful sandy beaches and coves worth exploring.
Favorite local and tourist beaches include the popular white sandy beach at Hapuna and Mauna Kea, Kua bay and A bay along the Kohala coasts and in Kona White Sands, Kahaluu beaches are easily accessible.
For beach camping popular spots include Spencer beach, Kehaka Kai In the Kohala area and Hookena in South Kona.
There are many more hidden or not easily accessible beaches throughout the west side of the island also worth discovering with their own unique charms, beautiful beaches or snorkelling appeal.
Around the island you will also find a large assortment of beaches like the black sand beach at Punalu'u with many sea turtles basking along the rocky areas of the beach.
In the Southern part of the island are some rare green sand beaches like Papakolea beach which made with olivine crystals created when fresh lava forms.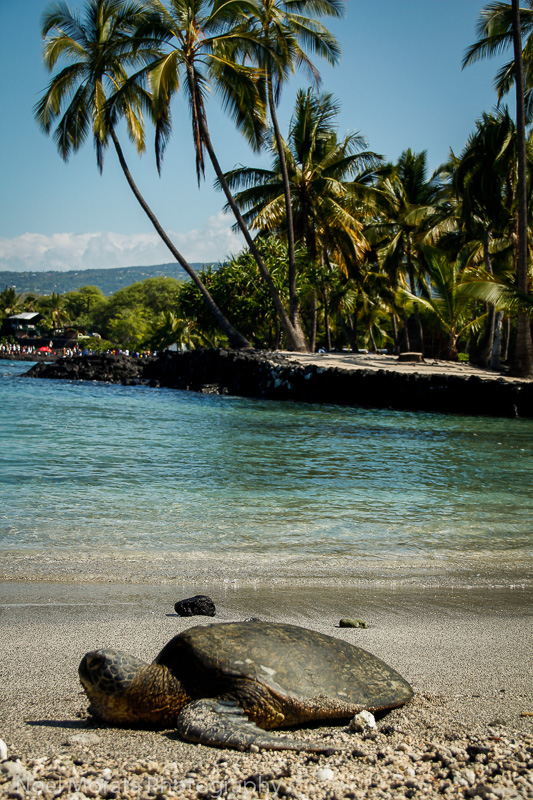 Snorkeling spots and wildlife
There are many popular snorkeling spots and touring companies that offer boating tours of harder to reach places where the snorkeling is outstanding on the west side of Hawaii Island.
There are even popular tours for whale watching, manta ray diving and deep-sea fishing. The more popular areas that are easier to reach by driving include places like Two Step in Honaunau, the beginner beach at Kahaluu and White Sands in Kailua Kona and Hapuna or Spencer Beach in the Kohala areas.
Very popular but only accessible by a long downhill hike, via kayak or boat cruise is at the Captain Cook monument at Kealakekua bay, it's definitely a unique and beautiful area to snorkel and visit the monument for the famous British Captain, James Cook who was killed here in 1779.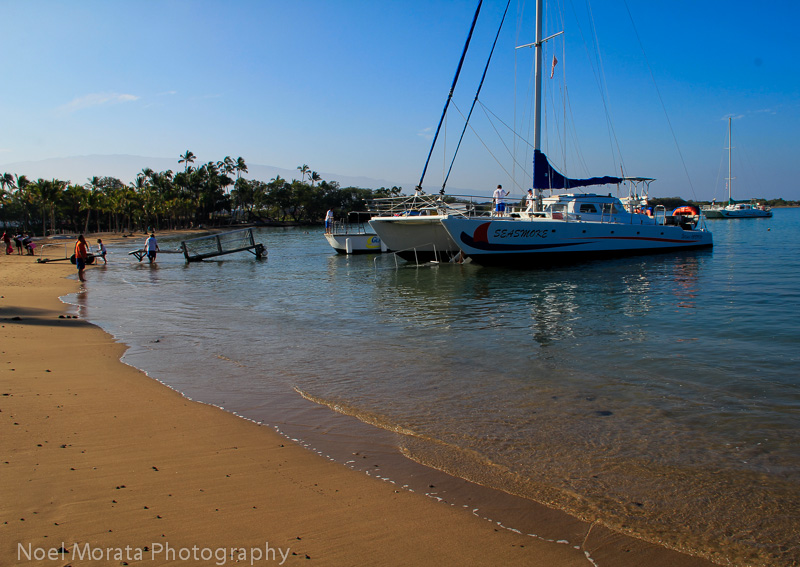 Adventure sports and off the beaten path
You can find a variety of adventure sports all throughout the island to keep you busy and your adrenaline levels peaked.
On the east side of Hawaii Island, you can hike through some amazing jungles and see live lava flowing into the ocean at Kalapana.
Or even hike through a lava tube or vast lava fields in Volcanoes National park. West Hawaii is the epicenter of adventure travel activities covering water and land recreation and sport.
This includes fun land adventure sports like ATV drives along the Hamakua coasts, horseback riding in Waipio valley, Zip lining in Hawaii.
On the water you can go on a variety of snorkel and diving adventures, Manta ray night dives, deep-sea fishing and parasailing, boogie boarding and surfing.
There are many outdoor adventure activities that can keep you busy for any adventure related travel.
Farmers markets
There are many local farmers markets worth visiting on the east side of Hawaii island which caters to locals as well as tourists. The most popular being the Hilo farmers markets occurring on Wednesdays and Saturdays.
Other busy markets include the Macu'u and Pahoa in the Puna district, and the Volcano markets on Sunday mornings. Uncle Robert's in Kalapana has a very lively market night on Wednesdays with live music, dance and ono(delicious) local style food for sale.
Don't forget to try some of the local specialities, fresh produce and locally made products available at these markets, it's so good to support small and sustainable companies on the island while you are visiting and try something unique from the island.
Hilo town
Little Hilo town is charming like time stood still, and it is a little faded and worn but still maintains a wonderful and friendly atmosphere with lively people.
Walking through the bayfront, check out the many interesting shops or have a local meal in any of the cafes. The farmers market is just on the end so try out some of the local delicacies or fresh tropical fruit while you're visiting.
There are many beautiful natural landmarks, waterfalls, parks and beaches to visit while you're in town, so don't miss out on some scenic places to photograph and enjoy spending some time relaxing.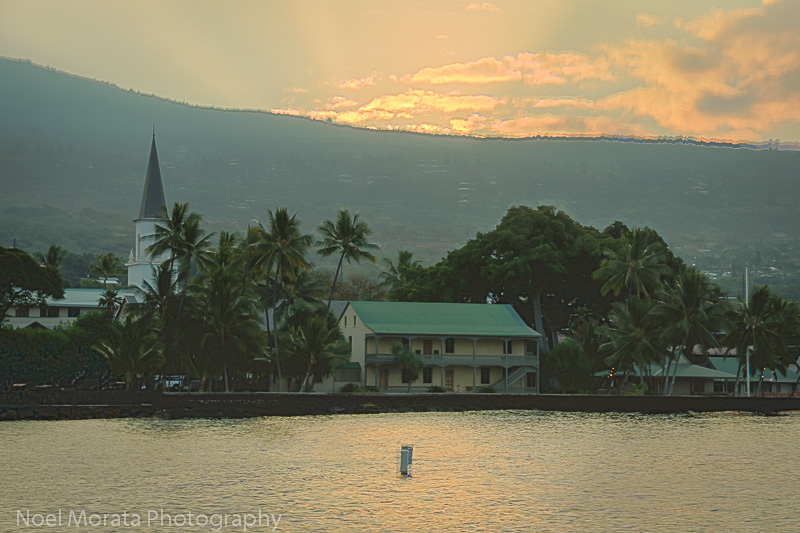 Kona Town
Kailua Kona once a sleepy fishing village and a royal Hawaiian retreat, the town is bustling with restaurants, tourist shops and affordable accommodations.
Historic sites are easy to visit in town including the royal summer palace at Hulihee Palace, the Mokuaikaua Church and Ahuena Heiau.
Located at the Kamehameha hotel, is a reconstructed temple rebuilt by King Kamehameha the Great (The Hawaiian king that unified the Hawaiian Islands.)
There are many activities to do in town including visiting farmers and crafts markets, boating and snorkeling excursions, luaus, and enjoying a nice drink or meal at sunset in many of the fine dining venues around the village.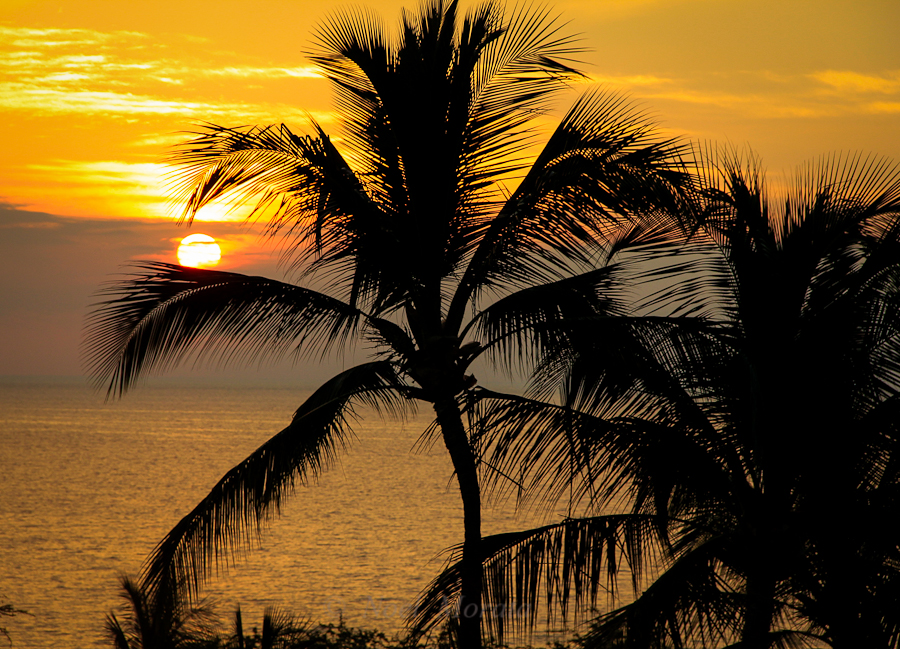 Fine Dining and,luaus and resort lifestyle
West Hawaii is a fine dining destination with its world class resorts and up scale restaurants. Each hotel also sponsors a regular Hawaiian luau on the premisis which is a representation of a tradition form of celebration and gathering along with festive hula shows, crafts exhibits and other sharing of Hawaiian culture and history.
Ocean front dining is at its best with world-class restaurants like the Kamuela Provision company, Browns Beach House, Manta and Pavilion , 'Ulu Ocean Grill and the Canoe House, you can't go wrong having a fantastic meal especially with a spectacular sunset view.
Take a look at some of these amazing restaurant venues if you want excellent service, food and a beautiful sunset view to cap off a wonderful dining experience in West Hawaii.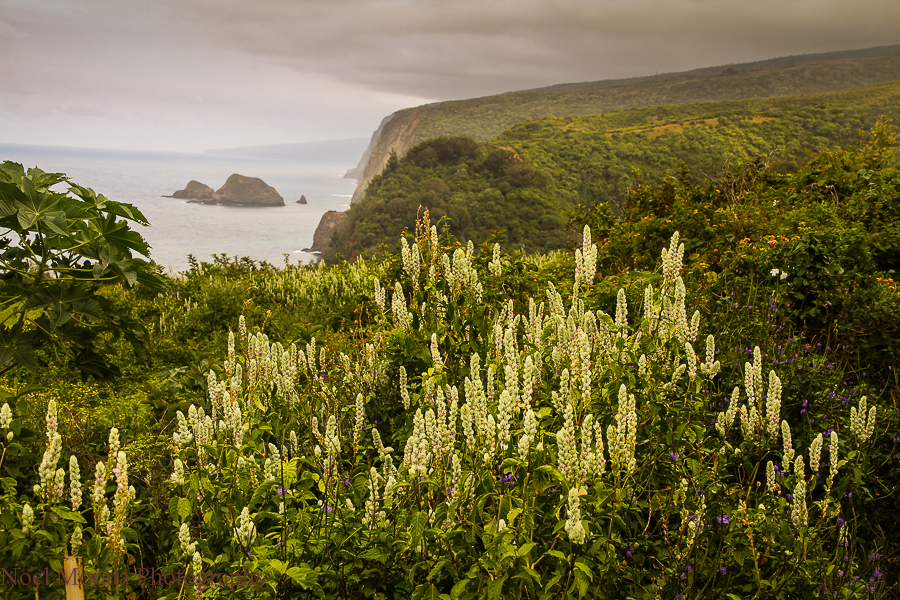 Hawi and Polulu Valley
The west coastline of Hawaii Island is also lush, serene and beautiful with charming towns like Hawaii and Kapaau with their art galleries, shopping and cafes to draw visitors from all around the island.
Close-by is the dramatic coastline and cliffs of the Polulu Valley with a fantastic look out to the coastline and beaches.
You can hike down to the beautiful black sand beach below and enjoy some scenic views of the valley. The surf is usually rough currents along the beach so swimming is generally discouraged unless it is an extremely calm period during your visit.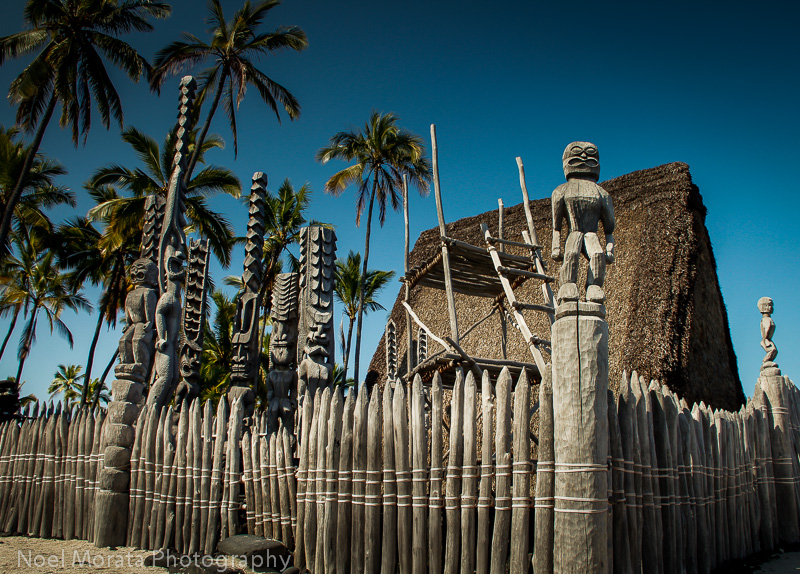 Visit a historic Hawaiian landmark
Hawaii Island has four national historic parks that are found throughout the island. Each park focuses directly to historic Hawaiian landmarks that are of historic value.
These includes the national parks of Puʻuhonua o Hōnaunau National Historical Park or the place of refuge, Koloko Honokohau National Park, Volcanoes National Park and Pu'ukohola National Park.
The national parks each have wonderful information centres and guide services, they offer a variety of information, maps and places to see and visit within the parks.
Visiting any or all of the parks in Hawaii Island will give you an insight to ancient culture, history and how the people survived and lived throughout the island.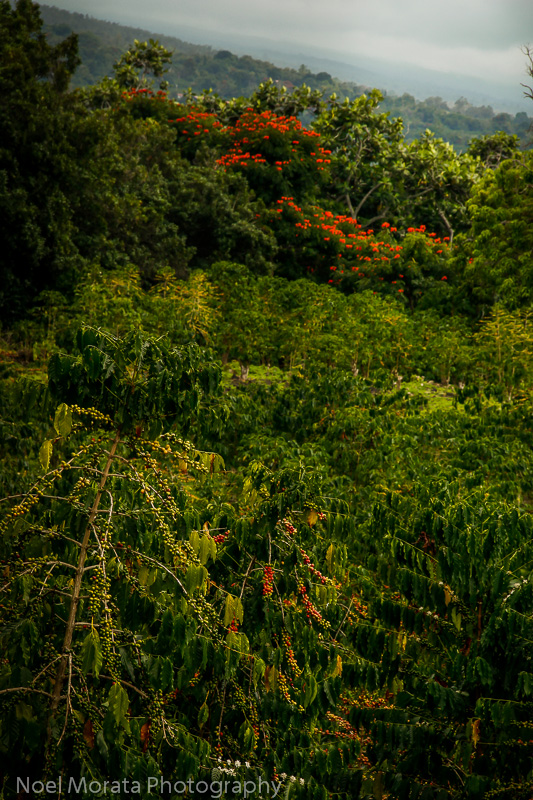 Coffee Plantations and Holualoa
Hawaii is an agricultural island and Kona coffee is very well-known internationally for its exceptional taste and quality.
There are many coffee tasting rooms and some farms open to the public for touring in the South Kona area and up in the cloud forest belt in Holualoa, an artist community with many small art boutiques, shops and cafes along with coffee tasting rooms.
To see a more detailed map of the many tasting places and coffee farms in West Hawaii, visit this link with maps to each location.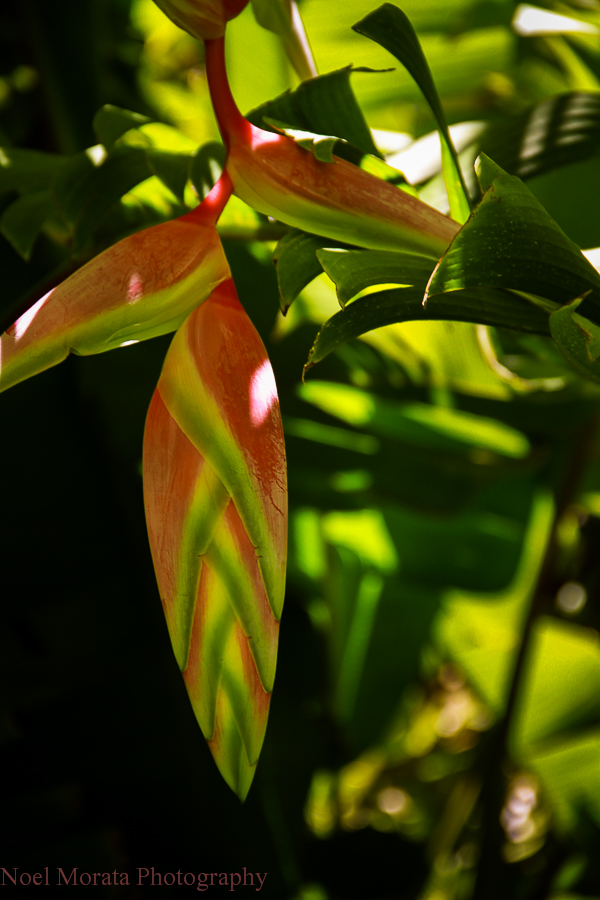 Gardens galore
The east side of the Hawaii Island is lush and filled with tropical splendor and bounty and the gardens here are pretty spectacular to visit.
Some of the gorgeous botanical gardens are public like Akaka falls in Onomea, the Hilo arboretum, Rainbow Falls and Liliuokalani park in Hilo and even the Hilo zoo is an amazing botanical garden to visit.
There are also private gardens to visit like the Hawaii Tropical Botanical garden in Papaiko and the World Botanical Garden and waterfalls in Hakalau.
If your into orchids then don't miss out on the amazing Cattleya and other varieties of orchids in bloom at Akatsukas Orchid garden in Volcano.
A beautiful garden and art gallery is the Volcano Art Centre in Volcano town, it's a fun place to enjoy art, visit the scenic gardens and enjoy a delicious organic lunch in their café overlooking the gardens.
Scenic Waterfalls
East Hawaii has so many waterfalls that are easily accessible just off the side of the road or a short hike to reach them and capture some beautiful images. In Hilo, you can get to Rainbow falls and Pe'epe'e falls with beautiful vista points. Akaka Falls in Honomu has a beautiful botanical garden and walk along with two large waterfalls to visit. Also, driving along highway 19 on the Hamakua coastline are many waterfalls that you will also pass UmaUma falls and so many other falls just by driving down Highway 19 and passing any of the gulches along your route.
About the Author
Noel Morata is a freelance photographer and writer based in Hawaii and San Francisco. He maintains a travel and photography blog catering to the everyday casual traveller to the adventure addict. You can visit his travel blog at http://travelphotodiscovery.com/ and check out his daily inspirations on his facebook page at https://www.facebook.com/NoelMorataPhotography
If you'd like to save it for later, please save it to Pinterest.
SaveSave